KNAW$ Defining Personal Prospectives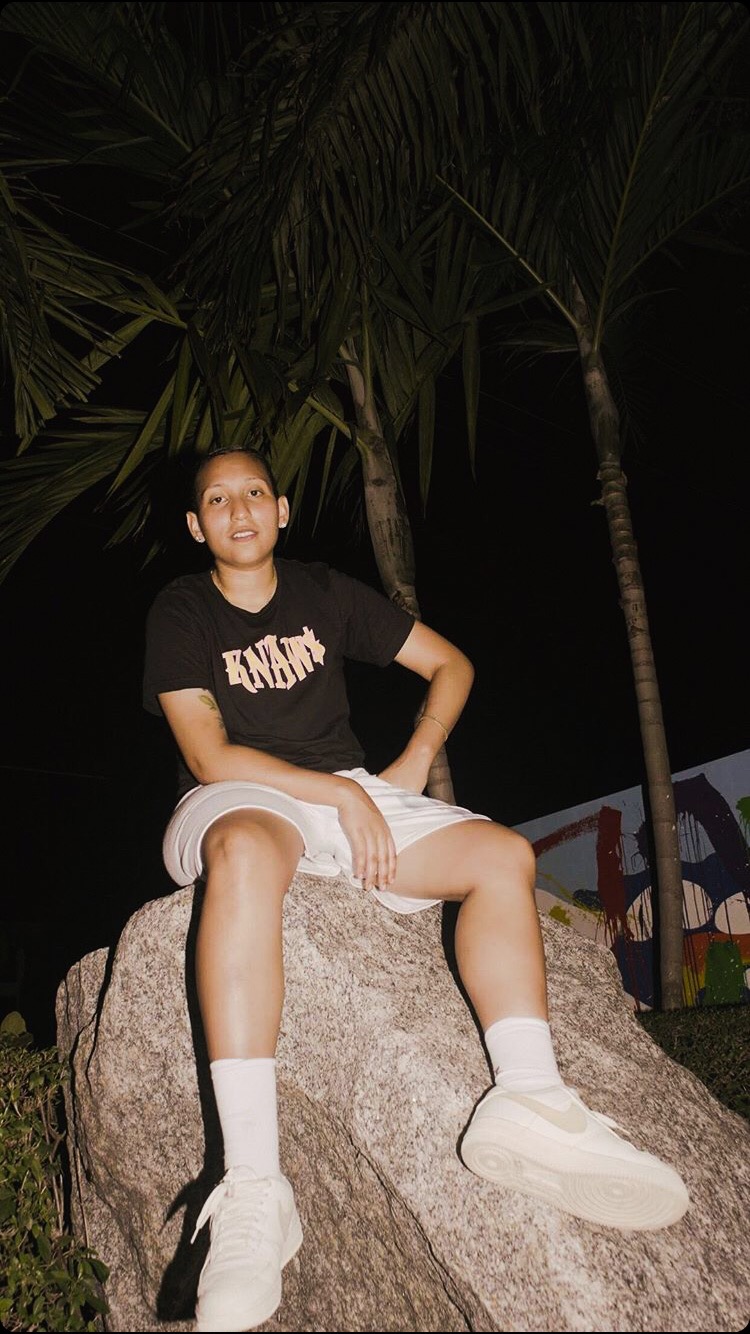 What is Knaws? What does the company stand for?
KNAWS came from the original word "Swank", which means it displays one's wealth, knowledge, and achievements. Since everyone has their own way/lenses on how they see things I decided to write swank backwards into KNAWS, which is my knowledge and achievement. Knaws means you define your own perspectives, you define yourself. As humans we don't all see the same things. Knaws symbolizes seeing things in different perspectives and using it to create, learn, and being yourself.
What style of clothing would you describe your company as?
The style of clothing is streetwear but also causal wear. The company creates cool and comfortable clothes for people to wear at events, parties, etc. It has a sporty/ graphic look with many light colors which makes it pop.
What does this company represent? How does the local community and culture contribute to your company?
The company represents individuals making a name for themselves, the clothing also symbolizes for hope, confidence, knowledge etc. Being from NYC has a lot to do with my clothing company, all my inspiration came from the environment in which I grew up in. There's a lot of talent in NYC but many people are afraid. As a pre-teen/teenager I was motivated by Ronnie Fieg, owner of Kith. Ronnie was my first inspiration, the way he created his pieces uniquely fascinated me. Ronnie envisioned many pieces of cloth which he brought to life, also he uniquely came up with the name "Kith" to represent family. He used a name that was close and personal to him just how I chose knaws.

What does your clothing line consist of?
Knaws clothing is a clothing line based on free expression and using the environment to create hope and motivation for the children/adults in the community. Not only for children, but also teens and adults who feel lost. Knaws clothing promotes individuals to take a risk and invest in those things they have always wanted to do but were too scared of to try or too self-conscious of what people can think of them. Knaws is a business made up of innovation and passive thinking, with the drive and intention to create and promote accomplishments, health, success, wealth, and conceptions.

What colour palate do you use with your fashion?
I like to use light colors that stand out because it gives the clothing piece life. Giving the brand these colors really help us stand out from any other brand.

Where do you draw inspiration from?

I draw inspiration from the community I surround myself with, and I also draw inspiration from music. Ermias Asghedom, better known as Nipsey Hussle in the hip-hop culture was one of the greatest influencers in my life. His music pushed me closer to my goals and made me believe that I can achieve whatever I put my mind too. Joey Bada$$ was also a big influence on my brand. His music and style are the reason's I came up with the brand Knaws.

Is your company's style based off of anything specific? Where and when did you discover it?
The style of the company originally had a hippy vibe to It, I listened to a lot of Joey Bada$$ and his entourage "Pro Era". They always used the word swank, which is where I got the word from. I had a group of friends who were also motivated by Joeys music. We started to create music, art, and more. I was in the 8th grade when I made this discovery, Joeys music opened my mind up and made me think outside the box, I wanted to be just as creative as his group so I followed their dress codes, their rhythms and rhymes and tried to fit my own looks and personality into Knaws while also incorporating their culture as well.

Is there a fashion statement currently that stands out to you?
The only fashion statement that I care and stands out to me is comfortability and happiness in what you are wearing. I want Knaws to be known for something proactive, promoting good and wearing things freely.

Is there any certain year of fashion that you would like to beckon back to?
The year 2000-2005. People wore things freely and the music was a lot more uplifting in terms of it brought communities together as well as in fashion.
Where do you find the best fashion is?
The best fashion is found within yourself, open your mind and wear whatever makes your feel happy and comfortable. That is where the best fashion is found in my opinion.
In terms of models who do you use to model your clothing?
I like to use Friends, strangers and Instagram models. Shout out to my models @Hummyvr, @Rodneyonawav and photographer @Youngwepa. They are all talented individuals whom I can say define knaws in all attributes. They create art in their own forms and do not let others get in the way of their crafts. They define themselves. I like to make people feel wanted and beautiful.
Where can people check out your brand and order your clothing?
As of now they can check up on new drops and alert's on Instagram, @Knaws.ny. Website is in the works and should be up soon with all the new drops and little short clips of what Knaws is and what it means.

Is there anything you would like to say to finish off?
First, id like to thank Wes and Xavier from the Nefarious Supply team for taking the time and giving me the opportunity for this interview, Next id like to say that if you are reading this, anything is possible. Thoughts do become things, it's the law of attraction and all you must do is put your mind and effort into it. You won't know what you're meant for until you put your self out there, take the risk, create, accomplish, and be happy. Encourage yourself to be confident enough to do things you have never done. Stand tall, be bold, have fun. Too many people in the world for you to worry what they think of you and how they define you.
You Define YOURSELF
Big shout out to KNAW$ and Jordy for interviewing with Nefarious Supply. If you want to stay up to date with KNAW$ and Jordy you can follow the clothings line's Instagram here, and you can find Jordy here.
If you enjoyed this interview please be sure to leave a like and a comment and share on your social media. If you know any creatives that you feel deserve a spot on Nefarious Supply feel free to send them our way .And to stay up to date with news and content coming from Nefarious Supply you can sign up for our newsletter below and follow us on Instagram and Twitter, and like us on Facebook.